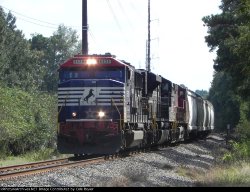 Welcome to the RRPictureArchives.NET contributor site of Cole Boyer.

Welcome to my RR Picture Archives page, here you will see pictures of trains mostly from Southeast Texas around the Houston area and pictures of trains from South Central Kansas around the Wichita area. When I go on vacation I will take pictures of trains so occasionally I will have pictures from new places that I've never taken pictures at. Rail Lines and junctions that I frequently railfan in Texas are the UP Navasota and Palestine Subdivision, BNSF Houston and Conroe Subdivision, UP Spring JCT., BNSF Dobbin Interchange, UP/BNSF Conroe Interchange and UP/BNSF Belt JCT. Rail lines and junctions that I frequently railfan in Kansas are the BNSF Emporia and Arkansas City Subdivision, BNSF Mulvane JCT. and BNSF South JCT. (Wichita, KS)

You may browse my collection of pictures via the menu located on the left hand side of the page. I hope you enjoy the collection and thanks for stopping by!
Note: This site is best viewed in Internet Explorer 6.0 or above.
Select one of the links from the menu on the left to begin browsing the collection.